WE BUILD A NEW SOCIETY

Our Foundress Servant of God Mother ThatipathriGnanamma - An Educator of the Society
Gender inequality pervaded the whole world in the 19th century. India was no exception. The condition was rather worse than other countries. India is a complex society with citizens from various social, religious, and economic backgrounds. Yet women suppression was prevalent everywhere in equal degree. From the day she is born until the day she dies, an Indian woman is expected to be under the control of a man and to serve him without question.
Mother Gnanamma was born in this time of history on the planet earth. Though her parents treated her as equal to their boy child and were liberal and understanding, the society around her had a say. However, Mother Gnanamma firmly believed that women are born free and are precious in the eyes of God and they have a right to life and to freedom. She was a docile child that she found it not difficult to go with the world, but at the same time she garnered greater strength and determination to change the situation for better. She decided within her to set an example to the womankind and showcase to the world what would a powerful and graceful woman turn out to be. She literally fought to establish herself and by that she inspired every other woman who looked upon her.
It is hopelessly impossible to take out darkness, but a small candle lit is sufficient to light the entire room and the darkness is gone quietly. Spiritual people never fear the adverse situations, because their minds are already fixed on the solutions. Mother Gnanamma herself was not a woman of letters. Yet the illiteracy and darkness around her disturbed her so much that she could not just let it go on. Thus the first girls' school in the whole of Kilacheri mission was born on 3rdMay 1863 just within three years' time of starting a first boys' school.
Mother Gnanamma never thought of momentary relief for the problems of the society, but looked though and beyond a hundred years. That is where she determined to start a school and a Religious Congregation which are now one hundred and fifty years old. Her faith was so strong and her vision was so sure that no storm could get near it. When the first two professed sisters died one after the other within two years of time the world would have waited for the collapse of her dream. But God restored the Congregation with the help of a 16 years old novice. Is it not the audacity of her faith that held the Congregation against all odds?
The daughters are in her footsteps in their living and apostolate
As the daughters of Mother Gnanamma, we have been called to continue her noble mission of educating the weaker section of society. Our Congregation was started for a sure aim and a definite purpose that is 'To Educate'. The education ministry started by our Foundress has a multifaceted and comprehensive approach, for our mother did not believe only in secular education. The important aspects of secular and religious education our Mother wanted to impart are:
Growing in unflinching faith
Knowing God through one's own experience
Cultivating oneself in wisdom and perception
Learning to live in harmony with one another
Preparing oneself for an independent future
Equipping oneself with knowledge and skills
Emerging as economically independent
Extending assistance to others who need help
Coming out with creative solutions for the existing problems
Incorporating all these aspects, our Mother Foundress tried to impart holistic education to the girls who came under her care. This is the model and principles of our Education Ministry that is the extension of our Foundress' vision.
A motivated quality service
The primary focus of our educational apostolate has been to provide quality education to the marginalized, downtrodden and the weaker sections of the society. This charism is derived from the vision of our Foundress Mother Gnanamma keeps us all marching ahead year after year, towards greater commitment, ultimately being convinced that we serve the Lord through service to humanity.
Vision
To provide humanizing and liberalizing education so as to form responsible citizens who in solidarity with others will create a just society.
Mission
To empower young women, with knowledge, skills and competence
To provide them with opportunities to understand the present society and critically analyze its structures
To enable them to contribute in creating a more human and just society
Aims and objectives
To foster academic excellence

Through Science, Humanities and Commerce students who enter the portals of this institution shall acquire sound and thorough knowledge in academics and be competent in intellectual pursuit and become preferred personnel by any organization.

Personal and interpersonal skills

To facilitate in discovering their potentials, develop their talents and aesthetic sense, to inculcate soft skills that would be helpful and harmonious interpersonal relationship and team work. To cultivate sincere respect for the essential dignity, freedom and equality of every person.

Spiritual pursuit

The extracurricular activities shall provide the young women knowledge of world, religions and the society and shape them into citizens who are morally sound and have personal conviction, deep compassion, competence and commitment to the larger world community.

Education is an atmosphere of learning and growing

Development of a person cannot be limited to just absorbing facts. It includes the growth of the body, mind and the soul of the learner. As schooling is a time of change, we concentrate on all round development of the pupils and enable them to grow physically, psychologically, spiritually and socially. It is a time of search that students strive for partnership and identity. Hence we journey with the students and enlighten them to choose the right direction in life through holistic education.
The holistic and integral approach in our schools
To ensure the holistic and integral development of every student in all the dimensions of growth, we focus on the following:
Availing quality education for all

The Congregation's main focus is to 'to educate' the weaker section of the society and lead them towards creating a just society. The Congregation moves into any kind of place where its service is required to light the lives of people in darkness. Education offered in our institutions is not just of letters but life-oriented.

Building a standard, superior and an advanced learning system

The Congregation is committed to provide quality assurance. The Congregation facilitates collaboration across the system, working with every stakeholder (students, parents and teachers) to meet the needs of learners, society, and the economy.

Creating a learner-centered, affordable and accessible learning system

The Congregation ensures access to a full range of affordable, quality and advanced learning opportunities for the students. The Ministry supports flexible learner pathways; provides student financial assistance in ways of scholarship, fees concession and free education; rewards excellence through scholarships and works through alumnae associations to support lifelong learning.

Developing skilled persons who contribute to economic prosperity

Education at St.Anne's Institution provides leadership to develop a skilled and productive workforce that will meet the changing needs of world's economy. We devote in preparing students with skills and talents who will be responsible for a better and prosperous future.

Ensuring that the students grow into value-based persons

The Congregation focuses on all round growth of the students that every one of them grow into a holistic, integrated and value-based persons who can contribute in building a better and peaceful society.

Fostering excellence in research, innovation and employability

The Congregation works collaboratively with students, teachers, educational department, like - minded people, and parents to coordinate, cooperate and promote research, innovation, extension, relevance, modification that the students be benefited in receiving more from our institutions and thus become proficient, efficient, and eligible to lead their secular, scientific and commercial life in the society
We are imbibed with the spirit of our Foundress
Education in its' current form is concerned with the transmission of knowledge. A quality education has the power to transform individuals and societies. W.B.Yeats exhorts"Education is not the filling of a pail, but the lighting of a fire". Some people interpret 'quality' in education as academic excellence as seen in marks. We see it as an integral development of the individuals as well as creating a sense of responsibility towards the world around.
Educational institutions play an important role in articulating and imparting value systems. They help students to develop their talents, form their character, establish personal identity, facilitate social interaction and inculcate social responsibility.
We consider always that imparting education is a noble mission in which the students undergo all round formation. We take preferential option for the girls who hail from the marginalized sections of the society. We receive this vision from our Foundress Servant of God Mother Thatipathri Gnanamma. She contemplated over the situation and empathized with women of her time in the 19th Century who were deprived of education and thus marginalized. She discerned that all her energies should be employed to dispel the darkness that enveloped the poor girls in Kilacheri village,Tamil Nadu. She lit the candle of education and enlightened the women to stand the challenges of life.
OUR STUDENT CENTERED ACTIVITIES
Our instructional style
The most important act that our Foundress did at that time was to listen to the cry of the poor girls and to become compassionate to form them into competent and committed people. Therefore, the education that we impart,
Informs the current trends and knowledge in all the fields, i.e. science, art and history. This makes our students as informed people.
This information and knowledge re-forms their character by exposing them to proper and appropriate social reality.
This reformation finally transforms our students into competent, committed and compassionate persons.
This gives them a formation that enables them to be value based, sociable, employable, reliable, and skillful persons.
In this case, the education of St.Anne's is to INFORM appropriate knowledge in order to REFORM their character, to TRANSFORM them as competent, committed and compassionate persons and finally it gives a FORM of personality that is skilled, able and noble.
(i). Informing education
We understand the signs of the times and start the school/college, we strive to provide the best knowledge that each student is needed to sharpen her mind and deepen her heart. We know knowledge is power. We also know that proper knowledge is the most powerful one. By proper knowledge we mean that the knowledge which comes from constant questioning of the reality; why does this work that way, why not another way? It is through constant questioning, one can gain a better knowledge. Inventions and discoveries have come about by questioning. One must be educated to ask the right questions at the right time. It is not just bookish knowledge, but knowledge that can advance the growth of this humanity leading to developing acumen for new inventions and discoveries. We inform our students a proper knowledge so that our students may be in - form to complete with the best mind of the world.
Today's world is Wikipedia world. It is a Google world. If we want information, if we need a definition of word, it is available at the click of a day. It is on the top of our lap. That is why it is called laptop. Access to knowledge is easy today. The problem we face is that we do not know what to choose from the loads of information. It poses a challenge to our skill and talent. We are called to discern and choose appropriate, reliable and accurate information and knowledge. Discernment is to identify what is good and what is not, what is appropriate and what is not appropriate, what is useful and helpful and what is not. Our education should teach this sense of discernment. Our schools and colleges do that. Not only mere information of data. We inform about the social reality - how many people suffer oppression, how many people face injustice and suffer inequality and why they suffer. We gain information about these. Our class room education is linked with the reality outside. This information has the quality that helps reform one's character.
(ii). Reforming education
The information we gather in the class room reforms the character of students. It is a re-forming act. It forms the person again. The way the students are brought up in families may not be always good. Therefore the knowledge which a student gains in our educational institution purifies her. In this way, our education aims at liberation. It is liberation from bondage, ignorance, backwardness and gravitational pulls of the lower human nature. Every class room teaching in our institutions gives the students this feeling. This feeling to change leads a student to what kind of person one should become.
(iii). Transforming education
The information and reformation that a student goes through further takes her to a process of transformation of her character. We work hard to instill in the heart of every student that she has the responsibility to work for the betterment of the society in which she lives while she progresses in her life. Hence social consciousness is one of the major concerns in our education. We do not believe in the education that produces the best minds but fails to form women who have social concern. Our education produces women for others, others who are in need. The knowledge they get, the character formation they receive in our institution, make them women who can reform this divided society. Our students are concerned about the disparity between the rich and the poor, animosity between religions and discrimination between caste groups, oppression of women and children. Not only they are concerned about the divisions but also they make some positive efforts to reform this society. We educate our students to celebrate our difference but shun divisions between us. We teach the students to celebrate the dignity of differences.
(iv). Forming education
Our education aims at information of appropriate knowledge, reformation of person and transformation of character. This gives a student a form of personality that is reliable, skillful and talented. It gets her job, making her economically self- confident. She becomes independent person and stands on her own legs. They are formed personally, ready to respond to crisis in the society
Finally A student who learns in St.Anne's School first becomes informed person, secondly, she is integrally formed person, and thirdly she becomes dreamer, who dreams of reforming the society and transforming the humanity and work hard to make these dreams come true in her life and in this society. This is our vision of education; inform, reform, transform and form.
The life oriented education to the students
(i) Guidance and Counselling
* Career Guidance
The world after school/college is full of career choices. The career options for a student passing out of school/college have multiplied exponentially. Hence schools and colleges are required to provide appropriate career education to the students. Understanding this, our educational institutions cater to this need of the students. The ultimate goal is for young people to leave school/college with a developed sense of self-awareness, an awareness of opportunities, the ability to make decisions and plans and the ability to take action
* Counselling
Guidance and counselling is a very important program in our schools. It is the process by which students are given advice on how to deal with emotional conflicts and personal problems both in school and how to incorporate the same in their daily life.We maintain case study records in the schools. We listen, analyze and understand the situation of the students before teaching them lessons. We identify the problems of the students and visit their houses. We meet students individually and in groups and make them capable to perceive, evaluate and regulate their emotions.
(ii) Humanizing Education
* Value Education
We strive to inculcate in the students the desire to uphold the morality in life through cultural programmes, morning assemblies and moral instructions. We train the students to reassert the ethical values that are embedded in the lessons and to counter act the immoral values. We have the responsibility to enable the students to grow in acceptance, self-introspection, respect for others and the courage to face the challenges of life. We emphasize on the journalling method to make the students grow in values.
* Student Leadership Training Programmes
We also have various leadership activity based training programmes, seminars, experiences and exposures.
(iii) Education for liberation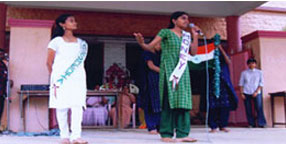 * Media Education
We facilitate an understanding about the strengths and limitations of mass media through media education. We enable the students to access, analyze and evaluate the different media modes such as television, films and internet. We make use of the modern technology to educate the students. We encourage the students to learn the various facets of folk arts and martial arts for concentration and self-defense.
* Cultural Education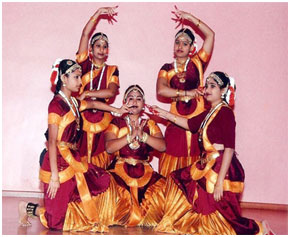 We create a conducive ambiance for the students to learn and appreciate the cultural heritage of India. We celebrate national and religious festivals and integrate these occasions to give awareness to the students on different social issues and to make them grow in social concerns.
Performing Dollu: upholding the pride of our school

It is a great privilege for 55 students of Sacred Heart High School, Jeevan Bhima Nagar - Bangalore who performed a folk dance of Karnataka called DOLLU on 61st Republic day parade in New Delhi. Dollu is one of the prominent folk dances of Karnataka and is essentially a drum dance with singing accompanied by the resounding melody of Dollu or drums. The robust nature of this dance produces an extravagant spectacle, with performers enacting their respective roles with seamless ease.
* Ecological education
We create awareness among the students to become eco - friendly through seminars and rallies. We celebrate the environment protection week in all our Schools.
* Human Rights Education
We impart Human Rights education to the students up to 9th standard to make education an instrument for liberation. We create opportunities for the students to learn Human Rights Education through trained teachers, seminars, exposure and cultural programmes. We celebrate the Human Rights day meaningfully. We organize seminars and rallies that emphasize on Human Rights Education.We encourage the students to participate in the rallies organized for condemning human rights violations
* Sex Education
We realize the importance of sex education to the students and educate them through instructions and cultural programmes.
* Feminism
The education has been considered the most significant instrument to change the position of women in the society. As the violence against women increases considerably today we give importance to feminism and emphasize on the following: celebrating the Women's Day significantly, giving awareness to the parents on the importance of feminism, making the students aware of the dignity and rights of women.
* Experiential Education
We identify and provide opportunities to our students to move into practical social action. To connect knowledge to life experiences outside the school and to understand the life realities of the poor, the following experiential based programmes are organized
Field trips (like village exposure)
Outreach programmes (like visiting the hospitals, refugees camp, prison: visiting and supporting the victims of natural disaster, accidents)
Camps
(iv) Education for community involvement and service
We guide the students to be conscious of the societal status through social analysis and form the following Movements to convey a broaden vision about the social issues today:YCS, YSM, AICUF, NCC, Green Corps, Red Cross, AMSA (Awareness Movement of St.Anne - AMSA), Literary Association, Guides and Scouts, Club, etc.
Past Pupils Association
Activities through clubs
Clubs provide excellent networking opportunities for students and a place to meet other people with similar interest and ideas, along with an opportunity for students to take on leadership roles. Our schools offer students a wide range of club activities appropriate to their age and interest. Joining a club is one of the many ways in which we seek to encourage students to pursue areas of personal interests.
(v) Education through Co - Curricular activities (CCA)
Co-Curriculum is not only teaching and learning in classroom. It also includes work in library, laboratory and workshop, participation in games and sports in playground and numerous informal contacts between teacher and pupils in these places. In these informal contacts there are very many activities. One of which is co-curricular activities. It is a part of curriculum of the institution. These are activities that are normally voluntary and are set apart from the regular school curriculum.
CCAs are an integral part of our students' holistic education. Through CCA, students discover their interests and talents while developing values and competencies that will prepare them for a rapidly changing world. CCA also promotes friendships among students from diverse backgrounds as they learn, play and grow together. Participation in CCA fosters social integration and deepens students' sense of belonging, commitment and sense of responsibility to school, community and nation.
* Sports and Games
Sports and games are the integral part of education at St.Anne's for sports and games play a vital role in the holistic formation of students. Many of our students have won prizes at the District, State and National levels.
* Picnics and Educational Tours
Picnics and Educational Tours are arranged by the Management every year. The education trips/excursions reinforce what a teacher has been instructing in class about a subject, take the students into a new environment and give them a chance to build closer bonds with their classmates. Hence we arrange education trips in our schools.