OUR CALL AND RESPONSE TO HEALING
The invitation to continue Jesus 'Healing Ministry'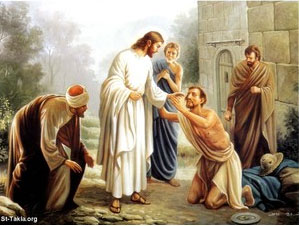 The ministry of healing is a work of compassion and love. When Jesus heals people, he is communicating God's forgiving love that heals and makes people whole. We are asked to do the same. This is illustrated in the parables of the prodigal son, of the lost sheep and coin (Luke 15) and of the Good Samaritan (Lk 10:25-37). The Samaritan manifests his love by picking up the wounded man, dressing his wounds with oil and making sure that he will be nursed back to health in the inn. This is the substance of love. That is why caring for the sick becomes an important element in the process of proclaiming and realizing the Reign of God. It goes together with the option for the poor (Mt 25:31-46). Healing, thus, is a constituent part of our mission.
Our Congregation, implanted in the culture and context of India, has taken its ministry in the field of health care as primary one, since fundamentally it is nothing but promoting life in its various dimensions. We are well aware that 'The Gospel of life is at the heart of Jesus 'message.' Pope John Paul II explains, "The Church considers service to the sick as an integral part of its mission."
Our vision
In solidarity with the suffering, to work for a healthy society and to contribute towards a just society.
Our Strategies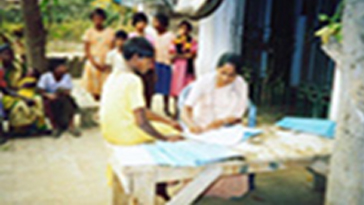 Health education as a preventive care Health education is the core of a healthy living. We, therefore, give adequate thrust in the area of education at all levels in grassroots, schools and colleges and to the people where we work.
Health care to the poor Our health care ministry is made in favour of the poor, especially towards rural areas and backward and vulnerable groups. In the socio - economic - political context of India, our health care is diverted to the poor.
Community health care We go beyond the curative and preventive aspects of healthcare. We concentrate on the community health care. It is enabling people to exercise collectively their rights and responsibilities to attain and maintain their health. We work towards increasing people's consciousness and awareness building and health education.
Collaboration is essential Collaboration, networking, tie up and advocacy in health issues are the need of the hour. Hence we collaborate in different levels: within the Church institutions, NGOs, Government structures, etc.
Promotion of alternative systems of health care We have a wealth of traditional systems of medicine in homeopathy, ayurveda, herbal, siddha, etc. Other systems include naturopathy, acupressure and acupuncture. There are many effective home and herbal remedies. There is also some health practices. These traditional systems are encouraged in our centers.
Promoting the holistic health care Health means, the satisfaction of one's basic needs, harmonious relationships with one another, nature and God. Any health assistance given to a person, in order to be effective, it has to be integral and holistic. Our health care recognizes the physiological, psychological, social and spiritual needs of the person.
Our Orientations
To make quality health services available, affordable and accessible to all especially in the underserved areas
To be helpful in the preventive, diagnostic, curative and rehabilitated activities related to leading health problems
To achieve the highest possible level of health
To enable our target people to lead a happy life by freeing from physical, mental sickness
To provide first aid and emergency treatment at homes in the villages
To join hands with the voluntary organization, government, other congregations and likeminded volunteers and groups
To create new horizons by deepening our values in a world of commercialized health care
To grow in up to the knowledge about by attending meetings, seminars, social forum and ongoing higher studies
Regular activities in our health centres
Promoting preventive measures by the way of health education (in our schools, orphanages, villages, parishes, institutions, formation houses, etc), and health camps (blood donation, AIDS awareness, eye check-up, diabetes check-up, asthma check-up, arthritis check-up)
Operation of mobile clinics in the rural villages
Conducting outreach programmes (awareness - building through seminars, rallies, campaign, etc: camps: special programs - like disaster management, implementing the policies/programs of the Government and Catholic Church in India)
Collaborating with the NGO's and Governmental organizations
Treating the elderly and bedridden patients at home
Teaching alternative medicines like homeo and herbal remedies
Giving concession for the poor and medicine at free of cost for the deserved
Setting up different facilities and upgrading the existing facilities
Appointing qualified professionals for the respective posts in the centers
Health Ministry in Germany
Our sisters render health ministry in Germany in the following places:
Place
Mission Station
Bermersbach in Freiburg Archdiocese
In the Social Stations
Angeltuern in Freiburg Archdiocese

Pflegeheim (Altersheim-Aged Home) in Boxberg
In the social station.

Gerlachsheim in Freiburg Archdiocese

Sozialstation St.Kilian, Caritas Dienste gGmbH, Tauberbischofsheim.
Sozialstation St.Kilian, Caritas Dienste gGmbH, Tauberbischofsheim.
Johann Bernhard Mayer Aged Home, Caritasverband im Tauberkreis e.V.

Leutershausen in Freiburg Archdiocese
Kirchliche Sozialstation Bergstrasse-Steinachtal e.V, Schriesheim.
List of our health centers in India
| No | Place | Name | System of medicine |
| --- | --- | --- | --- |
| 01 | Arambakkam | Mother Joseph Hospital | Allopathy |
| 02 | Arasadipatti | St.Mary's Health Centre | Allopathy, Siddha |
| 03 | Ayyampalayam - Nellur | St.Anne's Homeopathic Centre | Homeo, Siddha, Pranic Healing, Naturopathy |
| 04 | Belpahari | St.Anne's Health Centre | Allopathy |
| 05 | Dodda Alahalli | St.Anne's Health Centre | Allopathy |
| 06 | Dudhani - Dumka | Mobile Clinic | Allopathy |
| 07 | Jaidoh (Meghalaya) | Mother Gnanamma Health Centre | Alopathy |
| 08 | Jetti Hundi | Anita Hospital | Allopathy |
| 09 | Kadambathur | St.John's Dispensary | Allopathy |
| 10 | Kurumilangudi | Mother Gnanamma Health Centre | Allopathy |
| 10 | Metagalli | St.Anne's Health Centre | Allopathy |
| 12 | Nagamangalam | Bethsaida Health Centre | Allopathy |
| 13 | New Town (Kolkata) | Health Work in the College Hostel | Allopathy |
| 14 | Perungudi (Madurai) | St.Joseph's Health Centre | Allopathy |
| 15 | Sitheri | St.Anne's Dispensary | Allopathy |
| 16 | Thatchur | St.Joseph's Dispensary | Allopathy |
| 17 | Thandeswaranallur | St.John's Health Centre | Siddha |
| 18 | Thondamanthurai | Annai Gnanamma Aged Home | Homeo, Siddha, Pranic Healing |
Conclusion
Over the course of the past years, we have witnessed profound changes in the provision of heath care services in our Congregation. It is not an exaggeration to say that working in a health care setting today is a fiercely competitive. To remain competitive, we may have to make some changes in the way we do things and get actively involved in advocacy. To advocate effectively and to achieve a strong and respected Charism and the goal of our Congregation, we have to know the values, the costs and benefits of our services.
Our work in prevention of illness and promotion of health among the rural population is significant. As we look into the future, we think prophetic role of nurses needs to be reiterated. We have an important mandate. That is to bring the healing presence of Christ to the sick, down trodden and marginalized. May the Divine Healer Jesus bless our concerted efforts in the healing mission of the Church to create a better society.